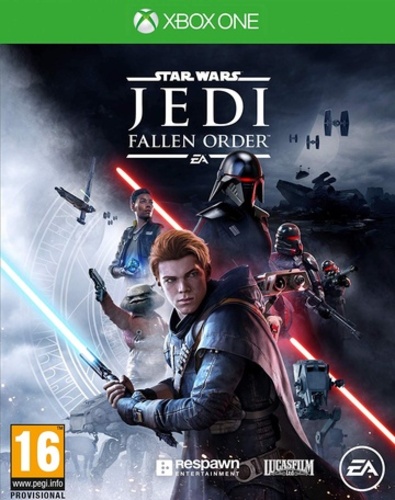 Star Wars: Jedi: Fallen Order (Xbox One) PEGI 16+ Adventure Fast and FREE P & P
Title:
Star Wars: Jedi: Fallen Order
Format:
Xbox One / Blu-Ray
No. of Players:
1
Publisher:
Electronic Arts
UK Release Date:
15 Nov 2019
Camera:
Third-person, over the shoulder
Developer:
Respawn
Star Wars fans have been waiting a since 2010's The Force Unleashed II for a fully-fledged solo Star Wars action game, so it was the least that EA could do to put one of the masters of AAA action games, Respawn (TitanFall, Apex Legends), on the case. Star Wars Jedi: Fallen Order follows Cal Kestis, a Jedi Padawan who narrowly escaped the clutches of the empire when Order 66 was given and the Jedi were massacred at the end of Episode 3: Revenge of the Sith. Cal has set his sights on rebuilding the Jedi order, but this is no Obi Wan Kenobi you're fighting with. Cal never finished his training, so he's raw and untested. Cal must explore a lost civilisation to find what he needs, all while being hunted by the empire. He will, however, have the help of his trusty droid BD-1 (often seen, adorably, strapped to Cal's back), Rebel extremist Saw Gerrera (played by Forest Whitaker) from Rogue One and his mentor Cere Junda (portrayed by Debra Wilson). The fact you're under-trained means that you have ample opportunity to upgrade your skills through Fallen Order's progression tree. Combat in the game is build around the lightsaber you kinda-sorta know how to use. It can cut up enemies, deflect shots and poke someone's eye out if you're not careful. It's all about patience, timing and using the weaknesses of your opponents against them. Through the course of Fallen Order you'll visit a host of worlds both familiar and unfamiliar, and likewise see some familiar faces cross your path. Respawn has given you a fair old corner of the galaxy to explore (and a customisable ship to do it in!) promising a ton of content and lots of ways to test your burgeoning Jedi skills. Star Wars Jedi: Fallen Order looks set to be a cinematic, spectacular and worthy companion to the end of the Skywalker saga over in the films.